Inquest rules Howell and Stewart victims were gassed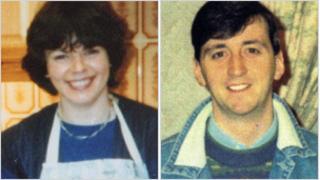 An inquest has found that two people murdered by Colin Howell and his lover Hazel Stewart were the victims of "homicidal carbon monoxide poisoning".
The original inquest into the deaths of Trevor Buchanan and Lesley Howell ruled they had died from suicide in May 1991.
However, following an admission of guilt by Howell and the later trial of Hazel Stewart, it emerged the pair had gassed their partners.
The coroner John Leckey expressed his sympathy to the victims' families.
He said the circumstances of the deaths were exceptional and he was conscious the families wanted to set the record straight.
"Lesley Howell and Trevor Buchanan went to their graves subject to the gross lies that they had taken their own lives, but eventually the truth came out," he said.
The court also heard on Tuesday that Howell had written a letter of remorse to the coroner.
In the letter, which was read to the court, Howell said: "I wish I could turn back time but I cannot and I am helpless to offer up any good thing except for my acts of remorse and the hope of healing for my victims who have been so deeply impacted and wounded by me.
"I am so sorry."
The new inquest was ordered by the Northern Ireland Attorney General John Larkin in April.
At the inquest, a police officer confirmed that close friends of Mr Buchanan and Mrs Howell had expressed concerns that the deaths were suspicious to police at the time of the original investigation.
The officer said there had been an "investigation of sorts" into the comments.
He also said he wanted to add that Mr Buchanan did have a cut on his lip.
Trevor Buchanan, a 32-year-old policeman and Mrs Howell, 31, were found in a car in a fume-filled garage in the seaside town of Castlerock, County Londonderry.
Howell must serve at least 21 years after admitting their murders, while his former lover Hazel Stewart was given a minimum 18-year sentence.