Ardoyne rioter Rodger Jarro Costa apologises to officer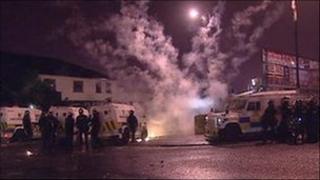 A rioter has publicly apologised to a woman police constable he injured during 12 July riots in 2010.
Rodger Jarro Costa, 29, has pleaded guilty to causing grievous bodily harm and a rioting offence.
The PSNI constable was injured when a concrete block was thrown at her in the Ardoyne area of Belfast.
At the prompting of Recorder Tom Burgess, Costa turned to her and said he was sorry for causing her injuries.
The woman was one of 48 PSNI officers injured during three nights of violence.
A previous court hearing heard that in her statement she said: "I felt incredible force hit me on the back of the head and shoulders.
"I remember the horrifying sound I made as I fell. The pain to my neck and back was instant and excruciating."
Costa, originally from Spain, but with an address at Ulsterville Avenue in south Belfast, was the third defendant to plead guilty on Tuesday in relation to the 12 July riot.
Belfast men Stephen James Fox, 34, from Chulainn House, Victoria Parade in Belfast admitted an offence of riot and of attempting to cause criminal damage to police vehicles and Hugh Toal, 45, from Alliance Avenue pleaded guilty to riot.
The guilty pleas mean that all 26 men who were arrested over the serious public disturbances have now pleaded guilty.
Ordering pre-sentence probation reports on the three defendants Judge Burgess said he would sentence all 26 men over the course of two days at the start of July.