NI schools to make 314 teachers redundant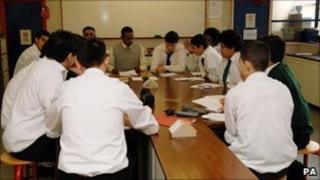 The BBC has learnt that 314 teachers are being made redundant from schools in Northern Ireland this summer.
Provisional figures compiled by the BBC show that 314 teachers are taking redundancy deals and the vast majority of them are going voluntarily and there is a generous severance package.
In 2010, less than two thirds of that number were made redundant.
Trade unions and principals have warned this is "the tip of the iceberg" and that the situation will worsen.
They said cuts could become more stringent and financial incentives for teachers to retire early may be reduced.
Across the 50 voluntary grammar schools, 69 redundancies are expected.
Teaching will also be affected by the loss of at least 163 classroom assistant posts.
Schools have blamed the move on budget cutbacks.
The Department of Education has reduced the number of places for trainee teachers but there are still a significant number leaving university who are not getting jobs