Schools 'failing diabetes pupils'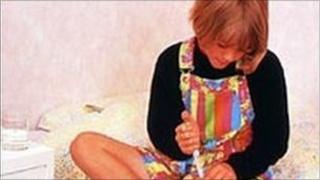 Northern Ireland's education department is failing the needs of diabetic pupils who need regular insulin injections, the charity Diabetes UK has said.
While some primary school teachers have agreed to give pupils lunchtime insulin injections, others are refusing.
The teachers said that, according to the guidance received from the department, it is the responsibility of parents and not the schools.
The department said it was working with education boards to resolve the issue.
SDLP MLA Conall McDevitt is a member of the Assembly education committee.
He has a seven-year-old daughter who suffers from type one diabetes.
'Out of date'
Mr McDevitt said new guidelines were needed for the school-time treatment of diabetic children.
"The guidelines that the department have are totally out of date.
"They are basically making it impossible, except by voluntary agreement, for children to receive their lunchtime insulin injections while at school.
"This is, basically, undermining some children's right to an education."
Diabetes UK spokesperson Florence Findlay White said each diabetic child had a care plan that was implemented by specialist nurses.
"We would like to see every school which has a child with diabetes have somebody in that school who has the knowledge and the understanding and training to be able to supervise and administer insulin, if that's what's necessary, and to know how to look after that child if their blood sugar is too high or too low."
The minister of education was not available for comment, but in a statement the department said: "Training is offered to all school principals to help them meet the needs of children with medication needs.
"However, there is no legal duty that requires school staff to administer medication. This is a voluntary role."