De Dietrich solicitor 'threatened with arrest'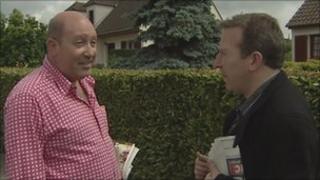 A solicitor representing a businessman suspected of an investment scam was threatened with arrest if he did not attend court, it has been claimed.
A judge has now lifted his order for the lawyers's appearance after receiving details of his involvement at a major criminal trial in Dublin.
On Friday, the judge had directed the solicitor for Francois De Dietrich to appear before him on Monday morning.
De Dietrich was jailed for 18 months in January for failing to disclose assets.
Althought a warrant was issued for his arrest, he has yet to surrender to the authorities.
The BBC Spotlight programme has since located the businessman in his native France.
'Threat'
On Friday, Mr Justice Deeny said de Dietrich's lawyer should have attended in case it was appropriate to question him about his client's whereabouts.
The solicitor again did not show today, with a senior barrister appearing instead on his behalf.
Barry MacDonald QC said it was explained last week why he could not be present.
The barrister added that correspondence then arrived from the court telling the solicitor to attend on Monday or else a warrant would be issued for his arrest.
"That seems to constitute a threat," he claimed.
Mr MacDonald set out details of a letter from the solicitor which explained how he was involved in an ongoing trial which was due to hear evidence from a main prosecution witness.
It was stressed that his non-appearance was not meant to be disrespectful and that he would make himself available at a convenient time.
Covenient
Mr MacDonald apologised on behalf of the solicitor but argued it was "completely inappropriate" to threaten arrest.
Acknowledging the new information before him, Mr Justice Deeny said: "I'm not requiring his further attendance in light of your apology here today, your attendance here today and the letter."
However, he did direct that the law firm representing de Dietrich should gather all addresses, email addresses and phone numbers used to communicate with him in case any future court order is made.
De Dietrich is due to appeal his sentence for contempt and insists his business is legitimate.
Dozens of people on both sides of the Irish border fear they may have lost millions of pounds in investments they made in liquidated stock through him.
Members of the business community, sporting figures and members of the travelling community are thought to have handed over money.
Court proceedings launched by the Financial Services Authority led to an injunction banning de Dietrich and his company ETIC Solutions from taking any more deposits.
The regulatory body also obtained an initial order freezing more than £20m in assets linked to the businessman.