Seven NI housing associations face building bar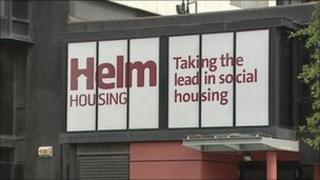 Seven housing associations have been told to stop building homes, the BBC has learned.
The ban was put in place after the Department of Social Development found they failed to meet certain standards.
Housing associations are responsible for building and maintaining social housing.
But Chris Williamson, director of the NI Federation of Housing Associations, said provision of social housing would not be affected.
"Our sector is a very strong, sound and resilient sector," he said.
"There has been no impact on the overall social housing development programme."
Mr Williamson added: "Of course, I am concerned that the highest standards are achieved. But it is not the end of the world. The programme was delivered. I am confident that this year's programme will be delivered," he said.
Last year, Northern Ireland's 30 associations spent £160m of government money.
BBC NI business correspondent Kevin Magee said: "The associations - and there just over 30 of them - received about £160m last year from the DSD to fund the house building programme.
"That is a large swathe of public money - more than OFMDM's entire budget - or about half of the Department of the Environment's annual budget.
"The associations use this public money to attract private funding and this combined private and public figure makes up the housing budget. So they have a very important role."
Mr Magee said the seven associations have been told by the DSD that they can no longer build homes after they failed inspections that looked at issues such as governance, finance, and development.
Helm, the largest association affected, built an apartment block on contaminated land at the former gasworks site in Belfast last year. The construction was carried out without planning permission and remains empty.
A spokesman for Helm said it was inappropriate for them to be interviewed as the DSD inspection was ongoing and the association was focusing on rectifying problems.
Rural was suspended last March. The association said it had rectified its shortcomings but could not get the inspectors back to carry out another assessment and re-instate it.
'Twiddling thumbs'
Rural chairman Mark Conway said: "We put a huge effort into fixing the things that the DSD said were needed."
He said Rural asked for an inspection at the start of last September but this had not happened.
"To put it mildly, we are frustrated, we are keen to get at the work. At the minute, we are sitting practically twiddling our thumbs."
Habinteg is also suspended. It has 1700 dwellings on more than 40 housing schemes right across Northern Ireland. A third of all its homes are in Londonderry and it has developments in Limavady, Dungiven, Coleraine, Castlerock, Dungannon and Strabane.
No-one was available for interview.
Dungannon and District, Harmony Homes, Filor, and Shac are also suspended.
Three others - St Matthews, Open Door and Gosford - have had restrictions placed on them.