Bankrupt developer Mervyn McAlister properties on sale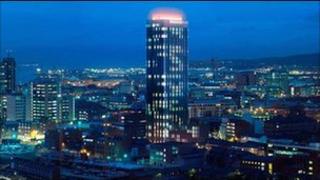 A portfolio of properties once owned by the bankrupt developer Mervyn McAlister is up for sale.
The three sites were placed into receivership by Anglo Irish Bank earlier this year.
The sites are in Belfast, Dundonald and Coleraine.
The BBC understands the receivership and sales process was ultimately directed by the Irish government's National Asset Management Agency (Nama).
Nama, which was set up to manage virtually all the land and development loans on the books of Irish banks, will dispose of millions of pounds worth of property in Northern Ireland in the coming years.
Portfolio
The former McAlister properties include the '"Aurora site" on Great Victoria Street in Belfast where planners blocked a proposal to build a 37-storey skyscraper.
The sale documents suggest that whoever buys the site can realistically expect to get planning permission for a building of between nine and 12 storeys.
The Dundonald property is a 5.4 acre site at Dunlady Road with planning permission for 120 apartments and 45 townhouses along with a small retail development.
The third site in Coleraine is 5.5 acres on Greenhall Highway with planning permission for 53 detached houses.
The asking price for the portfolio has not been disclosed.