List of lawyers working for new legal aid rates printed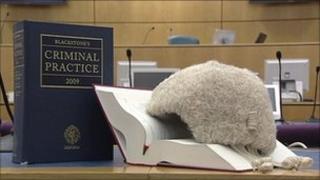 Defendants in court cases are being given a list of solicitors' firms who will work for new legal aid rates.
Many solicitors have refused to do legal aid work in protest at Justice Minister David Ford's attempt to cut 25% of the overall legal aid budget.
They have argued it is impossible to represent a client properly under the new rates.
Out of about 500 solicitors' firms in NI, there are 16 on the list. Half are based in Belfast.
Mr Ford had asked solicitors who were willing to work under the new conditions to write to his department.
He has argued that the previous payments were unsustainable in the current economic climate and that the new figures are still higher than those paid in England and Wales.
Some defendants have complained to judges that they are entitled to legal aid but unable to find any lawyer willing to represent them.
The list of firms willing to work under the new rates can be obtained in court and is available to defendants facing charges.
A Department of Justice spokesman said: "Copies of the list of firms willing to undertake criminal legal aid work is available to all defendants seeking legal representation from court offices.
"Copies of the list have also been provided to the Prison Service for clients on remand without legal representation."