Hydebank lock-up blamed for suicide of Allyn Baxter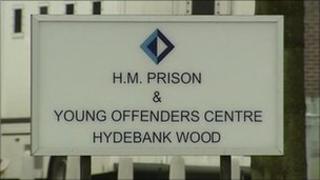 The Prisoner Ombudsman has said a 19-year-old prisoner who took his own life had been locked in his cell for too long at a time.
Pauline McCabe made her remarks in a report on the death of Allyn Baxter who died last August after three days in custody at Hydebank Wood.
The ombudsman found 18 areas of concern in his treatment.
She said that during his last two days in custody, he had been locked up for about 22 hours each day.
She added that prison authorities also failed to properly recognise his vulnerability and effectively communicate details of previous health problems.
Mr Baxter had a history of drug and alcohol abuse and self-harm.
Having lost his mother to cancer aged six, he had been fostered twelve times and had most recently been living in a hostel.
'Purposeful activity'
He was arrested in late July and was sent to Hydebank Wood Young Offenders Centre where he took his own life.
"We do know that higher rates of purposeful activity are associated with lower risks of self harm and death by suicide," Mrs McCabe said.
"For the last two days, Allyn was locked up for nearly 22 hours each day. There was very little opportunity for purposeful activity."
Deputy Director of Operations for the Northern Ireland Prison Service Max Murray said he accepted not enough was done to save Mr Baxter.
He said prison staff were under enormous pressure when dealing with inmates with mental health issues and called for a "cross agency approach" to bring about change.
"In the last three months, 507 prisoners on committal stated that they had been in touch with community based mental health services," Mr Murray added.
"514 were referred last year for alcohol and drugs treatment. Sixty-five per cent of prisoners suffer personality disorders.
"If you put that in the context of what prison staff are expected to manage on a daily basis it presents a major challenge."
Mr Murray admitted the level of lock-downs in prisons were "unacceptable" and said the governor at Hydebank was making an effort to reduce the number.
The Northern Ireland Prison Service also said it was committed to implementing the findings of the Owers report into the penal system.
Earlier this year, interim findings of the report team said that there should be fundamental transformation of the prison service, which it described as "dysfunctional, demoralised and ineffective".
Its proposals included a severance package for up to 500 prison officers.