Northern Ireland unemployment numbers rise again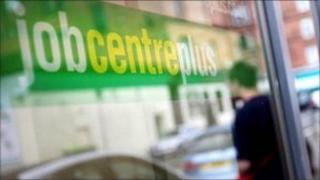 There has been another monthly rise in the number of people claiming unemployment benefit in NI.
There are two measures of unemployment. One, the Labour Force Survey, shows the jobless figure fell over the past three months.
However the other figure, based on the number of people actually signing on the dole, shows another 400 joined the dole queue in May.
The total number of people claiming benefits is 59,500.
The Labour Force Survey takes a representative sample by asking households about their status.
The survey is used to give a comparative rate across the European Union, because methods of claiming benefits differ between nations.
Enterprise Minister Arlene Foster said it is imperative that Northern Ireland is put back onto a sustainable road to recovery.
Over the past year, 3,900 people in Northern Ireland have joined the dole queue. That is an increase of 7% compared to a rise of 0.3% in the UK as a whole.
The annual increase in Northern Ireland is the largest among the twelve UK regions.