Sheree Black 'told midwife' about Ryan Leslie's abuse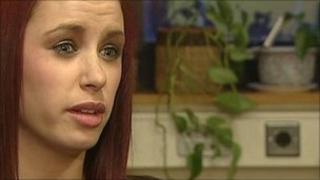 The mother of a baby murdered by his father has said she told a midwife that she was suffering domestic abuse.
In February, Sheree Black's former partner Ryan Leslie, 26, was jailed for life murdering their 14-week-old son Cameron in 2008.
Ms Black told BBC Spotlight documentary on Tuesday that Leslie had regularly attacked her during their relationship.
The Northern Trust told the programme that it had no record of a midwife being told about the domestic violence.
Ms Black said that in the spring of 2008, six months into her pregnancy, Leslie kicked her between the thighs during an argument at their flat in New Mossley in Newtownabbey.
Worried about her baby, she said she and her mum told a midwife at a regular appointment about the domestic violence.
"She did ask me did I want to report it to which I said no," Ms Black said.
"I didn't want any social services or anything to be brought into it.
"That would probably be another big regret that I would have. It could have prevented things."
According to Northern Trust policy, the midwife should have recorded the attack and told social services, regardless of Ms Black's wishes.
In a statement, the trust said that in the event of a midwife being told about domestic violence, it would expect him or her to take appropriate action to ensure the patient's safety.
It also confirmed that it had no record of domestic violence in Ms Black's notes.
It said it was "always open to learning lessons as appropriate".
BBC Spotlight's 'Behind Closed Doors' is available on the BBC iplayer at www.bbc.co.uk/iplayer