Paul Priestly demoted by civil service chief Sir Bruce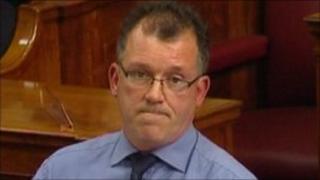 The BBC has obtained a letter in which the head of the civil service Sir Bruce Robinson has said it was his decision to demote a permanent secretary.
Paul Priestly's role in the civil service was downgraded to principal secretary after a disciplinary process.
In the letter to the Public Accounts Committee (PAC), Sir Bruce also said that he would not be releasing any documentation on the issue.
The SDLP has complained the demotion was too lenient.
In another letter obtained by the BBC on Wednesday, one of the party's representatives on the PAC, John Dallat, has complained about the process and sought a meeting with Sir Bruce.
It has also been revealed that the disciplinary process was completed on 19 May, several weeks before news of the demotion was publicised.
Mr Priestly was suspended last August after drafting a complaint letter to the PAC which was probing his department and Northern Ireland Water.
He had been involved in appointing Peter Dixon, a director at Phoenix Gas, to an independent review of governance at NI Water.
When four NIW directors were subsequently sacked for the improper awarding of contracts, the PAC began its scrutiny of what was happening.
Mr Dixon was not happy with his treatment by the committee and received help from Mr Priestly in drafting the letter of complaint.
It is thought likely that Mr Priestly's salary will drop by around £15,000.