Translink announce bus and train fare freeze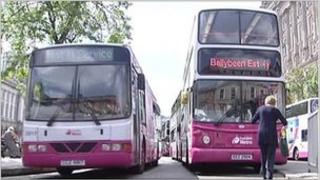 Translink has announced that it is to hold bus and rail fares across all of its services at last year's levels.
The firm, which operates Metro, Ulsterbus, Goldline, Northern Ireland Railways and the Enterprise services said that it hopes the freeze will help people budget in "difficult economic times".
Transport Minister Danny Kennedy welcomed the announcement.
He said it was good news for "all consumers who use public transport".
"In a period of budgetary constraint the fact that Translink will be able to hold fares at June 2010 levels reflects their focus on measures to keep costs under control and to continuously improve service efficiency," the minister added.
The company said that it has been able to hold prices until next year, by reducing and cutting out costs and being more efficient across all its business areas.
Translink Group Chief Executive Catherine Mason said she hoped the freeze would encourage more people to use the bus and train.