Police officer Gary Ervin's rape trial begins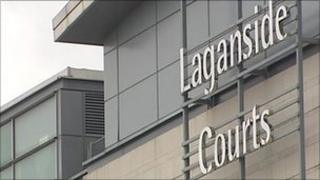 A police officer has gone on trial accused of rape in Belfast.
Gary Ervin, 30, whose address was given as PSNI HQ, was off-duty when he met his alleged victim in a Belfast nightclub on 30 March 2009.
He went back with her to her home in east Belfast where he allegedly raped her while she was asleep.
Mr Ervin denies one offence of rape and two of sexually assaulting the woman.
Police ID card
A crown barrister told the court that the girl had been out socialising with her friend when she met Mr Ervin in Thompson's nightclub in Belfast city centre.
In a conversation about jobs and work, the lawyer described how Mr Ervin "produced a card holder or wallet which had a police ID card in it".
At the end of the night when the two women were leaving, Mr Ervin said he would go with them.
The barrister said the alleged victim was "happy enough about that because her friend was with her and because he was a police officer".
He told the court that once all three arrived back at the alleged victim's home, she had gone to the bathroom but that when she came out, Mr Ervin was right in front of her and tried to touch her in a way she told him was inappropriate.
'Partly awake'
When her friend left just before 0400, the alleged victim asked Mr Ervin "should you not be going home" but could not remember if he replied or not.
The prosecution barrister told the jury she said must have drifted off to sleep because the next thing she remembered was Mr Ervin allegedly touching her inappropriately.
"While she knew in her head that this was happening she couldn't do anything about it," said the lawyer adding that she "tried to shrug him off".
The barrister said that she then remembered Mr Ervin having sex with her before she became fully awake.
He said that the alleged victim shouted at him a number of times asking him what he was doing and telling him to get out of her house.
'Completely violated'
He added that she "felt completely violated and was in a state of shock - she could not bring herself to look at him".
Mr Ervin then left the house.
In a state of panic, his alleged victim fled the house, leaving it unlocked and got a taxi to a friend's house from where the police were called.
The woman was examined by a doctor who found no recent injuries but the barrister told the jury that "is not uncommon in people who complain of sexual assault".
Mr Ervin was arrested and interviewed later that day. He told police "it was definitely consensual because she wasn't telling me to pull away - she had plenty of time to tell me otherwise".
When it was put to him that the woman had shouted and swore at him, Mr Ervin claimed he could not recall words of that nature and could give no reason as to why she would have fled her home.
The crown barrister told the jury that the woman could not have consented because she had been either asleep or partly awake.
"We say that when you have heard all the evidence that you will be satisfied beyond reasonable doubt as to the guilt of Gary Ervin on these charges," he added.