Hayfever sufferers may benefit from NI pollen count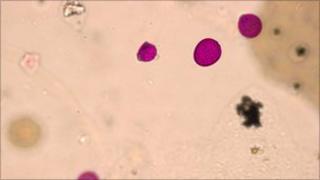 Hay fever sufferers in Northern Ireland can breath a little easier. A local pollen count has started up again.
Previously sufferers have had to manage with information all the way from places like Edinburgh.
Given that it is quite far from Northern Ireland and usually enjoys different weather, the result weren't always relevant.
But a new system installed on a rooftop at Queens University, Belfast, now offers a daily sample of the air.
Basically a large pump draws in air which passes over a length of sticky tape.
Any pollen or other minute detritus lodges on the tape and is available for inspection.
The tape is changed each morning and the previous day's offering are then checked for quantities of pollen. Its not sophisticated but very reliable and accurate.
Chris Hunt of the School of Geography, Archaeology and Palaeoecology at Queens, who look after the new device, says the pollen count data is sent to the Met Office every day.
"From that information the Met Office build a model of what will happen the next day by factoring in the weather and what the plants have been doing in terms of throwing out pollen," he said.
"We can then get a much better idea of what will happen here in Northern Ireland."
Mr Hunt said it is not just any old pollen. The scientists at Queens can often identify the species the pollen is from.
"We are reasonably close to Divis Mountain and the moorland species from Divis is blown in from time to time," Mr Hunt explained.
"At other times we are getting agricultural pollen.
"At the moment the wind is fairly variable so we'll probably be getting something from the Botanic Gardens in Belfast.
"It's quite interesting to see what lands up in the trap."
And already the pollen collector has revealed what else is floating around in the air in Belfast.
As well as pollen there is dust, soot and bits of insects. Stormy weather can even add marine plankton from Belfast Lough to the mix.
And from time to time, depending on wind direction and strength, round worm have even been detected in the air... something else that could make your eyes water.