£200m Crossnacreevy valuation questioned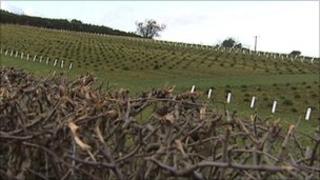 It has emerged the department of agriculture's staff came up with a land valuation so inflated it left a £200m hole in the Executive's budget.
Acting permanent secretary Gerry Lavery said the valuation for the 80 acre Crossnacreevy site was based on how much land with planning permission was selling for in Greater Belfast.
He told the Public Accounts Committee that he was given a figure of £2.5m.
He said this was multiplied by 80 acres which resulted in the £200m valuation.
"It was only ever an indicative figure," Mr Lavery told the committee.
But spending plans were made on the basis of the valuation. Indeed millions of pounds in farming grants were handed out based on the anticipated revenue stream.
Sinn Fein's Mitchel McLaughlin, who sits on the PAC, told the BBC he was "astounded" when he heard how the valuation was calculated.
He said it was also amazing that the Department of Agriculture could release £89m as a consequence.
"I want to know not just why the Department of Agriculture officials thought that was a prudent way in which to proceed," he said.
"I also want to know why the Department of Finance and Personnel thought it was a good way to proceed."
Mr McLaughlin - who also sits on the assembly's finance committee - questioned whether a bank would lend money on the basis of such an evaluation.
The site was eventually valued at between £2.8 and £5.8m and it still has not been sold.
The Department of Agriculture was able to make up the shortfall in its budget through unspent funds from other departments.
This included the £120m surrendered by the Department of Social Development which was not proceeding with the Royal Exchange regeneration project in Belfast.
But at the time the Social Development minister Alex Attwood was unhappy that he was only able to get £10m back when he had urban regeneration projects in areas such as Dungannon and Belfast ready to go at the cost of £25 to £30m.
Mr Lavery became acting Permanent Secretary of the department when his boss, Dr Malcolm McKibbin was moved to the Department of Regional Development following the suspension of its Permanent Secretary Paul Priestly.
Mr Lavery is among a number of potential candidates being tipped for promotion as Mr Priestly has now been officially demoted to deputy secretary, leaving a vacancy at permanent secretary level.