Fisherman's Friend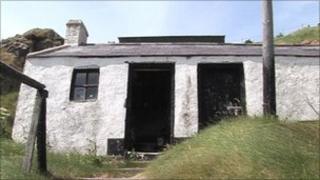 They often tell you to not look down when you cross over Carrick-a-Rede rope bridge.
But that's exactly what you'll need to do in a few months time to see the latest tourist attraction on the North Coast.
For hidden in the cliff face is a 300-year-old Salmon Fishery Cottage and the National Trust is starting to restore it to it's former glory.
Catherine Redmond from the National Trust said it was a very special fishery.
"It was quite unique and a lot of people have disconnected from the fact that there is a bouncy bridge they love crossing with the real reason why that bridge was here," she said.
"About 2002, Aki Colgan - the last fisherman on the the island - locked the door for the last time and walked away.
"I would like to say that it's exactly the way he left it but it's maybe not quite but hopefully with his help we can put it back to looking like a working fishery so that people can come down here and get a feel for how it must have been - the quietness, the hard work of it - just how special it is down here."
Mr Colgan was the last fisherman on the island. He fished here for 30 years and closed the doors of the cottage for the last time just 10 years ago.
History is scattered both inside and outside the weathered whitewashed walls, from anchors and boat winches to buoys, ropes and eel traps.
"When I came here at the start there was a fair run of salmon but as time went on the salmon always got scarcer and scarcer and it got to be it really wasn't worth while," Mr Colgan said.
"We had some bad days here and some rough weathers.
"There were some good catches and some poor catches but it's the kind of job you got hooked a bit on it and you were always after every season, even a poor season, you expected the next season to be better.
"But the peak period for salmon was from about the middle of June until the middle of July. That was when the young fish came.
"You had when you have to make your money.. In about three or four weeks."
The National Trust is appealing for volunteers to help in the restoration.
It will start in earnest the 18 and 19 June when every inch of what's inside the cottage will be documented before work starts.