Laser shone into paramedic John Corr's eye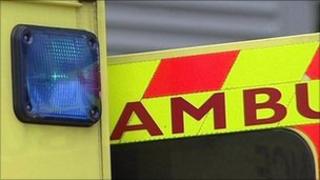 A paramedic has called for a specific law to protect ambulance staff after a laser pen was shone into his eye.
John Corr, who has been assaulted at work four times, was driving a patient to hospital last Saturday morning when he was temporarily blinded on the Stewartstown Road in Belfast.
He has said the laser missed his optic nerve by inches.
"We are out there doing a job. We should have assaults on us regarded as a specific crime," he added.
The ambulance was at the Lagmore junction of the Stewartstown Road at about 0100 BST on Saturday when a car pulled alongside.
One of the occupants of the vehicle then shone the laser straight through the window.
With Mr Corr incapacitated, his crewmate was forced to take over and drive their patient to Lagan Valley Hospital in Lisburn.
Mr Corr then went to the specialist eye clinic at the Royal Victoria Hospital in Belfast, where he was told he had a burn to his retina.
He said the attack put his patient, other road users and him and his colleague in potentially fatal danger.
"I appeal to whoever did this to sit back and think about what you are doing," Mr Corr added.
"Seconds can count in an emergency. The patient needs to be in hospital, not in the back of an ambulance."