14 solicitors' firms willing to work for new legal aid rate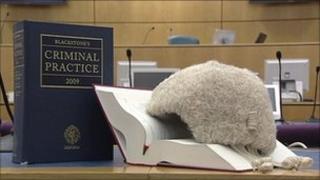 The BBC understands that there are now 14 solicitors' firms on the list of those willing to work under the new legal aid arrangements.
On Tuesday, a list of 18 such firms was being distributed to defendants at courts across Northern Ireland.
It is understood that four have withdrawn in the last 24 hours.
Many lawyers in Northern Ireland are currently refusing to do legal aid cases because the Department of Justice has cut the fees paid.
Meanwhile, the department has confirmed that an Antrim-based solicitor Gary Bell, who has worked under the new terms, has written to the justice minister David Ford complaining of his treatment by others in the profession.
Lawyers have argued that the new fees paid are not sufficient to guarantee fair representation for a client.
Mr Ford has said that the level of legal aid payments being paid previously was unsustainable.
He has asked solicitors who were willing to work under the new conditions to write to his department.