IFA close to signing Windsor Park deal with Linfield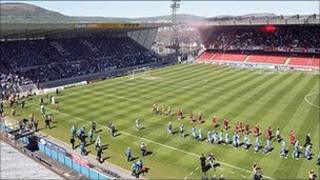 The Irish Football Association are close to signing a new deal with Linfield for running Windsor Park.
It will replace the controversial 100-year agreement signed in 1983 which controversially gave Linfield 15% of gate receipts from international games.
Under the new agreement, the IFA will take over the running of the stadium for 40 years and will lease it back to Linfield for staging its games there.
There are plans for the new redeveloped stadium to be used for concerts.
IFA chief executive Patrick Nelson told the committee for Culture Arts and Leisure at Stormont that in addition to soccer matches, it is also hoped the new 18,000 seat national stadium at Windsor Park would also be used for concerts and other sporting events.