Elderly couple in court to deny killing disabled girl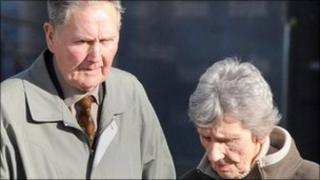 A couple in their 80s have denied unlawfully killing their disabled granddaughter ten years ago.
David Johnston, 87 and his wife, Sarah, 84, from Carwood Drive, Glengormley, appeared at Belfast Crown Court on Thursday.
They deny cruelty and the manslaughter of Rebbeca McKeown, 14.
The teenager, born blind and unable to speak, died in hospital on 24 March 2001, five days after she had been looked after by her grandparents.
No details on the prosecution case against the pensioners were given in court on Thursday.
However, the judge said the case would centre around the medical evidence.
The couple have been released on continuing bail.
There were no details given about how Rebecca McKeown died, just that the case would centre very much around the medical evidence.
The couple are expected to go on trial later this year.