NI departments' tender process 'not transparent'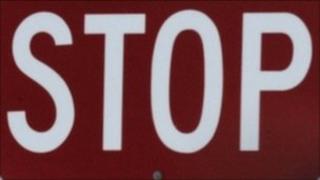 Two government departments could have to pay out up to £750,000 in costs after a legal challenge from a County Down business.
Traffic Signs and Equipment, took a case against two government departments over how they awarded some contracts for road traffic signs last year.
A judge found the tendering process had not been "transparent".
But he rejected allegations of bias made by the company which is based near Comber.
Company director David Connolly said he is considering further action and plans a claim for damages.
The DRD said it welcomed the court's "complete rejection of all allegations of bias".
In a statement, the DRD said: "The department will take account of the court's findings to ensure high standards continue to be applied in future tender competitions."
It said three contracts would be tendered again as a result.
Costs were awarded against the Department of Regional Development and the Department of Finance and Personnel.
According to the lawyer acting on behalf of the company the bill to the public purse could to be up to £750,000.
Although the action dealt with contracts awarded in 2010, Mr Connolly's complaints - some of which were the subject of a BBC Newsline investigation - stretched back several years and were the subject of an internal DRD investigation ordered by the Northern Ireland Audit Office.