Robinson 'rebukes' Paisley Jnr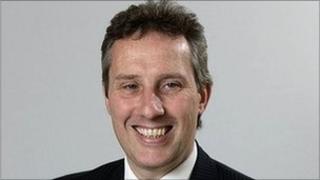 DUP leader Peter Robinson has rebuked one of his MPs for criticising the standard of debate in Stormont.
In an article for the Agenda NI magazine, North Antrim MP Ian Paisley Junior, described the Assembly as being "more like a grand county council than a regional parliament."
He said it was inhabited by politicians reading five minute prepared scripts.
Mr Robinson rejected the charge and accused Mr Paisley of putting down fellow DUP members.
"I don't think demeaning his colleagues is going to endear him to his colleagues," Mr Robinson said.
"The reality for all of us is we have a job to do at the Assembly and I regard that as being very important.
"I can say the level of contribution we have is every bit as good as we see in Westminster, having spent more time than Ian Paisley Junior has, in both the Assembly and Westminster."
The full interview with Peter Robinson is on BBC TWO NI's Hearts and Minds programme at 1930 BST Thursday.