Civil servant Paul Priestly challenged his demotion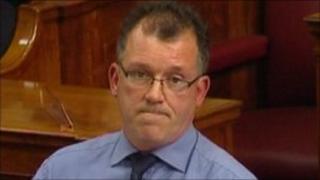 It has emerged senior civil servant Paul Priestly unsuccessfully appealed against his demotion from permanent secretary to deputy secretary.
On Wednesday the BBC obtained a letter in which the head of the civil service Sir Bruce Robinson said it was his decision to demote Mr Priestly.
Mr Priestly was suspended from the Regional Development department last August.
His role in the civil service was downgraded to principal secretary.
It came after it emerged Mr Priestly had helped draft a letter of complaint to the Stormont Public Accounts committee which was probing the department's handling of Northern Ireland Water.
On Thursday Sir Bruce defended his decision not to answer detailed questions about Mr Priestly's case.
He said he acknowledged that civil servants were accountable to ministers and the assembly for the performance of their duties.
Sir Bruce said that when the civil service acts as an employer, its policies and procedures must follow the law which protects employees' right to confidentiality.