Councillors in unapproved roles on education boards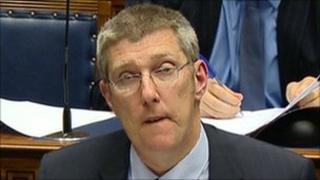 The BBC has learned that some district councillors are sitting on education and library boards despite not being approved by the department of education
Under new rules councillors have to be formally appointed by education minister John O'Dowd.
But it has emerged some councillors have been attending without gaining approval first.
The department said it is liaising with councils about their nominations.
Earlier this week councillors who have been long term members of the North Eastern Board were barred from taking their seats at a meeting because they had not been formally approved by the minister for education.
There also appears to be confusion among boards with councillors attending and making decisions at the Western and Southern boards.
Meanwhile Belfast City Council has delayed making nominations to the Belfast education board.
The previous minister, Catriona Runane, reduced the number of members of each board and the Belfast board is now being run by only six non-political members.
The former MP, Roy Beggs, was told he was no longer a member of the North Eastern board and not permitted to take part in meetings.
He says many councils have nominated people to the boards and the failure to confirm them is a sign of incompetence and mismanagement in the Department of Education.