Judge: De Dietrich must be ready to go to jail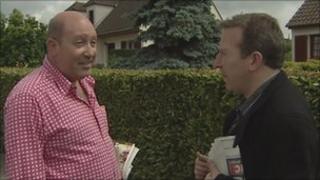 Northern Ireland's most senior judge has warned a businessman suspected of an investment scam must be ready to go to jail if he is found.
Francois de Dietrich received and 18-month sentence for failing to disclose assets.
His appeal was put back due to issues over a lack of funding.
People on both sides of the Irish border fear they may have lost millions of pounds in investments they made in liquidated stock through de Dietrich.
Although a warrant was issued for de Dietrich's arrest, he has yet to surrender to the authorities.
The BBC Spotlight programme located the businessman in his native France.
Members of the business community, sporting figures and even travellers are thought to have handed over money.
Court proceedings launched by the Financial Services Authority led to an injunction banning de Dietrich and his company ETIC Solutions from taking any more deposits.
The regulatory body also obtained an initial order freezing more than £20m in assets linked to the businessman.
De Dietrich was then held to be in contempt of an order to disclose his financial affairs in full to the FSA.
In a statement through his lawyers he has denied any fraudulent behaviour and claimed to operate legitimate businesses which have been unable to trade due to the legal action.
Although a warrant has been issued for his arrest Sir Declan was told that de Dietrich has still not surrendered to the authorities.
The judge was told that a solicitor for the businessman has been able to receive indirect instructions from him.
Sir Declan described the information given to him as "very opaque".
However, he agreed to take the case out and have it mentioned again in September.
"It seems to us that the liberty of Mr de Dietrich is, at least in theory, at issue in this case," he said.
"Therefore where an issue of funding for legal representation to enable points to be made on his behalf arises we should afford a reasonable opportunity to enable an application for such funding to be obtained."
The judge added: "It remains the position that Mr de Dietrich is subject to the contempt order made by Mr Justice Deeny.
"In the event he is discovered it must be expected he will be required to serve the term imposed on him."