Lost town of Dunluce 'archaelogists' dream'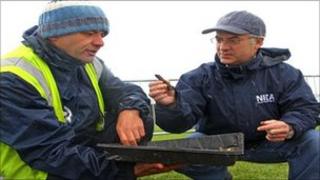 The discovery of the lost town of Dunluce has been hailed as an "archaeologist's dream".
Next to Dunluce Castle in County Antrim, the town was razed to the ground in the 1641 Irish rebellion.
Archaeologists have said that because it was abandoned, jewellery, pottery, stone and wooden homes and even a road are still very well preserved.
The town is believed to have first emerged in the Ulster Plantation around the early 1600s.
Environment Minister Alex Attwood said that the history attached to the dig was "overwhelming".
"I am fascinated by the homes, the streetscape and trying to imagine just what it was like living here," he said.
"I would encourage anyone with an interest in history to come along and visit the site. Who knows what we will have found by the time you get here!"
The excavation is being carried out in partnership between the University of Ulster, Queen's University Belfast and the Northern Ireland Environment Agency.
Between 7 June and 1 July, visitors to Dunluce Castle will have the opportunity to talk to archaeologists and learn about the site.