Strand Road police station bombs - men face Derry court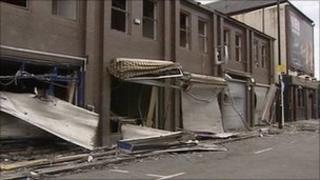 A 42-year-old man has appeared in court in Londonderry charged with a mortar bomb attack on Strand Road police station in May 2010.
Philip O'Donnell of Ardnamoyle Park in the city is also charged with having a mortar bomb on the same date.
The device, launched from a car in Queen's Street, failed to explode. The attack has been blamed on the Real IRA.
Mr O'Donnell is already in custody charged with a separate bomb attack on the same station in August 2010.
On Friday, a 23-year-old man appeared in court charged with the August attack.
Martin McLoone, whose address was given as Maghaberry prison, is also charged with five other offences.
During the hearing on Friday, two defence solicitors formerly came off record due to the ongoing dispute between some lawyers in Northern Ireland and Justice Minister David Ford.
The district judge told the two defendants that as they were now not legally represented, they would have to obtain the services of other solicitors before their trial or they would have to represent themselves.
The two men were remanded in custody.
As they were led from the dock, several of their family members and friends clapped.