Brick bandits strip NIHE site in south Belfast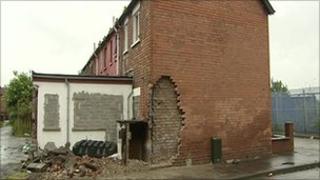 The NI Housing Executive has appealed to people to stop dismantling houses to steal bricks which are being sold on as salvage.
The appeal came as it emerged that so-called "brick bandits" are stripping a Housing Executive demolition site in the Village area of south Belfast.
A lucrative trade has grown up around reclaimed Belfast bricks which can retail for between 50p to £1 each.
The Housing Executive has warned people's lives are being put at risk.
Last week, demolition work started in the Village area as part of a scheme to regenerate the area.
The Department of Social Development has earmarked 600 homes for demolition.
However the site has already attracted gangs of people who are sifting through piles of rubble to claim the bricks.
The bricks are then being sold on to dealers for around £100 a pallet.
The Housing Executive said those involved have also targeted houses which are not yet due for demolition - regardless of whether of whether adjacent homes are still being lived in.
The houses are being left in a dangerous condition.
The Housing Executive has called for a stop to the "wanton vandalism".