Jail term for drug addict Stephen O'Brien 'excessive'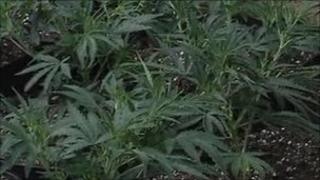 A 12-month jail sentence imposed on a drug addict for growing cannabis plants was "manifestly excessive", the Court of Appeal has ruled.
Judges said that the prison term given to Stephen O'Brien should be switched to three years probation due to exceptional circumstances.
O'Brien, 31, of Cranbrook Street in Belfast was charged following a search of his home in August 2009.
Lawyers argued that reports recommended he should get urgent treatment.
Following the seizure of 23 cannabis plants, growing equipment and a small quantity of the drug, he maintained that he was growing the drugs for his own personal use.
'Psychological issues'
The court heard how he became addicted to alcohol and drugs as a teenager. Psychological issues were also identified.
Allowing the appeal, Lord Justice Coghlin said: "Having taken into account all the factual evidence, expert reports and recommendations we have reached a view that this should be regarded as an exceptional case in which the community might be best served by a non-custodial sentence.
"In our view the sentence was manifestly excessive."
A condition of the decision is that O'Brien must take part in a drug counselling or treatment programme.
Reducing a fine imposed on him from £1,000 to £200, Lord Justice Coghlin also stressed: "Cannabis remains a drug which is capable of causing significant, long-term psychiatric damage.
"That is demonstrated not only by repeated research programmes, but also by the sad individual who is making the appeal in this case."