Chancellor: corporation tax decision due in autumn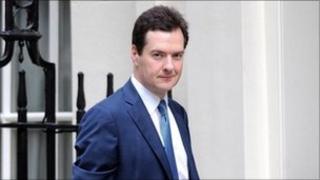 The Chancellor George Osborne has indicated it will be the autumn before a decision is made about a reduction in the rate of corporation tax.
Mr Osborne was ending in his first visit to Northern Ireland since he took on his new role.
He said he recognised Northern Ireland was a "special economic case" because of its border with the Republic
Mr Osborne said he is also looking at the rate of air passenger duty at airports.
Earlier on Friday the chancellor had an hour-long meeting with the First and Deputy First Ministers at Stormont.
Afterwards he said while he did not want to pre-empt the end of the consultation on corporation tax, but he was giving the issue very serious consideration.
The treasury has said Stormont will lose about £200-300m from the NI block grant if the business tax is cut.
Mr Osborne has also visited Wrightbus in Ballymena.
His overall visit is part of the government's consultations on proposals to grant the Assembly the power to lower business tax in Northern Ireland.
The chancellor said cutting the tax was a way of helping the NI Assembly grow their private sector.
"There is a particular argument in Northern Ireland because it shares a land border with the Republic of Ireland which has much lower corporate tax rates," he said.
Mr Osborne said the visit by Prime Minister David Cameron last week, his visit and a visit next week by another treasury minister were aimed at clarifying the issue.
"This is a consultation to ask NI politicians and people whether they want this deal," he said.
"We are making a real effort so that we hear all the arguments."