Dwindling support for a united Ireland?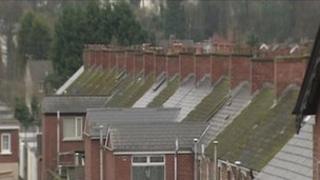 New research shows dwindling support for a new united Ireland among Catholics.
The latest Life and Times Survey found that 52% of Catholics wanted to maintain the union with Britain while 33% said they wanted a united Ireland.
Despite the pouring rain, an estimated 12,000 Catholics attend Mass during the nine-day Clonard Novena in west Belfast.
These are the people that might be expected to be big supporters of a united Ireland
"I don't believe the research that only 16% of the entire population and 33% of Catholics want a united Ireland", one mass-goer said.
"You can't believe that, it's only a poll and there would be a different result in a referendum," another said.
Those views were not echoed in the latest research from the annual Life and Times Survey, carried out between October and December last year by Northern Ireland's two universities.
It found that 52% of Catholics want to remain associated with Britain, more than double the figure that expressed the same wish in a similar survey five years ago.
But Sinn Fein's Barry McElduff has trouble believing those figures.
He said that when you add the percentage of votes in the recent Assembly election of all those parties who want Irish unity, it is much higher than the 33% found in the survey.
"Every day the relevance of Dublin and Belfast is apparent. Powers are being removed from England to Ireland and there might be a united Ireland 10 years before people realise it," he said.
The SDLP and Sinn Fein do not agree on many things at the moment.
But on this Conall McDevitt and Barry McElduff are at one.
The SDLP MLA believes the Republic's economic plight may have something to do with the figures but he believes there needs to be a debate about what Irish unity might develop in terms of citizens' rights and federalism or a unitary state.
"I don't know too many northerners who look to the south and think 'Aren't they having a great time at the moment'. Most people think 'Thank God it's not us'," he said.
"But the bigger debate we need to have is what a united Ireland might look like and how it might impact on all our people."
There can be little doubt that economics and the Republic's bailout by the Europeans and the IMF had an impact on changing Catholic attitudes to Irish unity.
The survey was carried out during the bail-out period.
But Dr Eamon Phoenix believes the research may be suspect because the sample size was 1,200 compared to 1,800 in the past. He also said devolution might be changing Catholic attitudes.
"I think since the Good Friday Agreement you have a more settled constitutional background," Dr Phoenix said.
"You have a basis of equality right at the centre of government; something that was not there in the past or in previous surveys.
"I think, finally, that you have this idea that a united Ireland is very much aspirational for both Sinn Fein and the SDLP."
The research is good news for Unionists like the DUP North Antrim MP Ian Paisley junior. He welcomed the findings.
"The emotional arguments for a united Ireland are gone," Mr Paisley said.
"The political arguments are over; after all it is the British Exchequer that is paying for the Republic of Ireland, giving them a bail-out of £7bn. So, there's no financial argument for it.
"I'm still surprised there are still people who want it, it's crazy."
Crazy or not there will probably more analysis of what a united Ireland might mean and cost as the island approaches the centenary of the 1916 Easter rising.