Big Screen switch-on at Belfast City Hall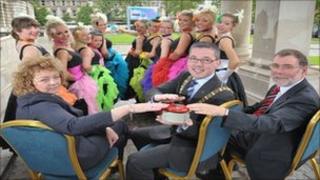 The Mayor of Belfast has officially turned on a huge television screen in the grounds of Belfast City Hall.
The 'Big Screen' will showcase a packed scheduled of events and live screenings in the run-up to the London 2012 Olympic and Paralympic Games.
It is being run by a partnership involving Olympic organisers and the BBC among others.
As well as sporting and artistic events, there will also be input from local community groups.
Its first major event will be the Lord Mayor's Show in Belfast on Saturday.
"This is a wonderful way for us to engage with the local community," Mayor Niall O'Donnghaile said.
"It is a fantastic addition to the city centre and one which I am sure the public will appreciate and really enjoy".
The social development minister Nelson McCausland said his department was delighted to be involved in the project.
"The Big Screen is a great innovation for Belfast bringing the excitement of 2012 London Olympics into the heart of the city to be enjoyed by shoppers, visitors and those who work in the city centre."
Anyone who wishes to contribute content for consideration should email bigscreenbelfast@bbc.co.uk