NI tourism figures drop as budgets slashed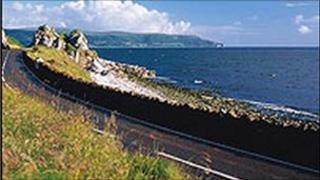 The number of tourists visiting Northern Ireland has dropped by about 300,000 in one year, figures obtained by the BBC suggest.
In a report for BBC NI's Politics Show, it has emerged that the government agencies responsible for promoting tourism have had their budgets slashed.
In 2008, just over 2m visitors from the Republic of Ireland, Great Britain and overseas came to NI.
Last year, that figure fell to around 1.7m, a drop of over 14%.
This is short of the target set by the Executive's Programme for Government of 2.5m tourists by 2011.
The loss of out-of-state visitors means a drop in revenue from almost £400m in 2008, to less than £340m last year - almost £200m below the target set by the Executive.
Tourism Ireland, a cross-border body, is responsible for attracting visitors from Britain and abroad.
At a recent meeting of the North South Ministerial Council, it was confirmed that its budget would be cut this year. The Stormont Executive will reduce its contribution by £1m.
The Northern Ireland Tourist Board is also facing budget cuts, but said it was confident that next year's Titanic launch celebrations and the 2013 Derry City of Culture events would help to boost visitor numbers and double revenue from tourism over the next decade.
In response to the BBC's report, Tourism Minister Arlene Foster said the global economic crisis had resulted in "some of the toughest years for global tourism in recent memory with business and lesiure travel declining sharply".
"However, statistics for January-March 2011 are very positive and show that despite the continuing difficult economic climate, an estimated 205,000 overseas visitors stayed at least one night in Northern Ireland, an increase of 7% from the same period in 2010," she said.
"In addition, the estimated expenditure of the overseas visitors during the period in 2011 was £48m, an increase of 14% from the same period in 2010."
The minister said the years 2012-13 would be important for tourism in Northern Ireland.
"With impressive projects such as Titanic Belfast and the UK City of Culture in Londonderry, to name but a few, anticipated to attract large numbers of tourists," she said.