West Belfast homes attacked by gang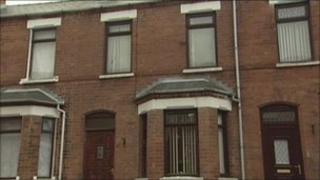 A gang of about eight men and women attacked houses in west Belfast on Sunday.
They used bats, bricks and bottles to break windows and damage doors in Hawthorne Street at about 0300 BST.
Three adults and a child are believed to have been in one of the houses. It's understood a mother and child had to escape onto a rooftop.
A neighbour was also assaulted in what is believed to have been a case of mistaken identity.
Police have appealed for anyone with information about the attack to contact them.