NI fans flock to Take That concerts in Dublin.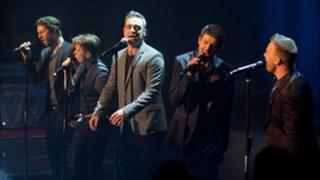 Thousands of fans from NI took over Dublin this weekend for one of the biggest music events of the year.
Take That is appearing at Croke Park for two nights. Last minute hopefuls could still get a ticket but finding a bed proved more elusive.
On Friday evening, the Irish Hotels Federation website had just a single hotel room free in the city - the penthouse in the Gresham at a price tag of 2,000 euro.
The group's Progress Live tour is taking in 29 stadium gigs.
About 1.8m tickets have been sold, smashing the record the group set in 2009.
The quintet gave fans a trip back to their original glory days with classic hits like Pray, Relight My Fire and Never Forget.
Robbie Williams, who last toured with the band in 1995, also performed solo material.
A 40-ft high robot, nicknamed Om by the group, was the centrepiece of the stage.
The mechanics failed at the City of Manchester gig two weeks ago, trapping two of the singers on the robot. Ladders were used to rescue them.
The tour marks the culmination of the group's long-awaited and lucrative reunion.