Gary McCausland gets libel payout over newspaper claims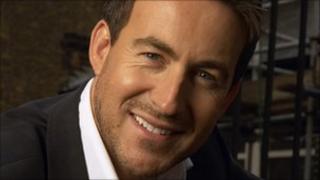 Television presenter Gary McCausland is to receive libel damages over false newspaper suggestions that he neglected his parental responsibilities.
The property developer and businessman sued over a story about two children he had with former Big Brother contestant Orlaith McAllister.
He received an apology and his legal costs as part of the settlement confirmed at the High Court in Belfast.
Mr McCausland, from Dungannon, County Tyrone, runs a London-based company.
He has also presented a number of television shows, including How To Be A Property Developer.
A judge was told on Monday that a planned jury in the case against the publishers of the Sunday Life newspaper was to be stayed.
Damages
As part of the settlement, a lawyer for the defendant read a statement to say that articles published in the paper and online in September 2009 "wrongly suggested that Mr McCausland had failed to discharge his parental responsibilities to his children".
Withdrawing the allegations, he added: "The defendant unreservedly apologises to Mr McCausland and has agreed to pay him substantial damages together with his legal costs."
Following confirmation of the resolution Mr McCausland said in a statement that the outcome "acknowledges my commitment to my family and my responsibilities to my children".
His lawyer, Paul Tweed, senior partner with Johnsons Solicitors, said the property developer had been left with no alternative but to take legal action over the newspaper allegations and internet publication.
Mr Tweed added: "This is a prime example of extensive damage resulting from ongoing online publication months after the original newspaper article.
"However, the full and categoric retraction and apology read to the court this morning, together with the payment of substantial damages has gone some way to vindicate my client's reputation in relation to allegations that should never have been published in the first place."