Newly-crowned golf champ McIlroy back on home soil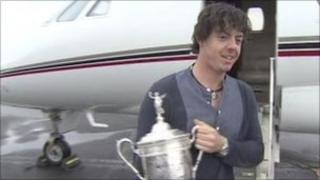 Newly crowned US Open golf champion Rory McIlroy has arrived back in Northern Ireland.
As soon as he arrived at his home in Holywood on the County Down coast, the 22-year-old superstar began tweeting.
Among his first messages was: "Great to be back home. Even nicer to have this (the US Open trophy) on my kitchen table!"
Following his emphatic victory in Maryland on Sunday, McIlroy is now ranked fourth in the world.
McIlroy broke a series of records as he won his first major title on 16 below par, giving him an eight-shot victory over his nearest opponent.
He has been congratulated by several leading figures in the sporting world.
The youngest US Open champion since Bobby Jones in 1923, he said said he had set his sights on winning more majors after his maiden triumph in Maryland.