Mystery airline orders ten Bombardier aircraft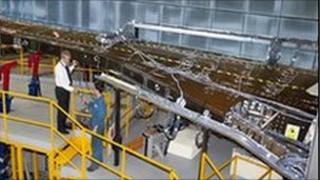 A mystery customer has ordered ten new aircraft from Bombardier Aerospace with the wings for the planes to be made in Belfast.
Bombardier will not say who this latest customer is, but it is understood to be a major airline.
It has placed an order for 10 Bombardier C series passenger jets with an option to buy another six.
The potential value of the order could be £600m. The total number of orders for the aircraft is now more than 100.
The wings for the C series, which has been designed for the growing 100 to 150-seater market, have been developed in Belfast and production will begin later this year.
The second phase of the new wing-manufacturing and assembly facility at Airport Road is well under way.
The aircraft wing programme will employ over 800 in Belfast when in full production in a few years.