Derry cage fighter victim stabbed as he shook hands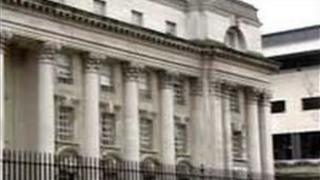 A cage fighter was stabbed repeatedly after agreeing to shake hands with a man who had swung a punch at him, a High Court bail hearing was told.
He suffered a total of four stab wounds to the upper body during the incident in the Creggan area of Londonderry.
Adrian McGinley, of Creggan Heights, Derry, was charged with attempted murder following the attack in April.
Mr McGinley, 23, had been granted bail. His application for a variation in bail conditions was refused.
He had applied for the variation to allow him a limited return to see his mother and girlfriend.
Prosecution lawyers Fiona O'Kane said police were opposed to the move.
She claimed the victim was felled by knife wounds and forced to protect himself as his alleged attacker lunged again at his chest.
'Goading him'
Mrs O'Kane said the victim claimed to have encountered McGinley after he arrived to meet friends at Creggan shops.
It was alleged that the accused started goading him because of his involvement in cage fighting.
Mrs O'Kane claimed McGinley swung a punch at the victim during an altercation, left the scene and returned 15 minutes later to ask if he was alright.
"The applicant is alleged to have asked the injured party to shake on it," she said.
"When the injured party gave the applicant his hand, the applicant then (allegedly) pulled the injured party close to him and stabbed him twice."
The victim fell to the ground and rolled over onto his side to protect himself as another attempt was made to stab him, it was claimed.
Mrs O'Kane contended it had been a premeditated attack.
After hearing details the judge refused to vary McGinley's bail conditions.
Mr Justice McLaughlin said: "The restriction on his liberty is both necessary and proportionate."