New housing plan for Belfast's Nelson Street site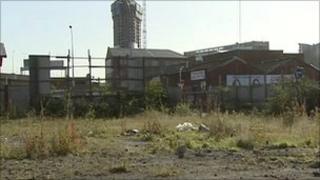 The Housing Executive has submitted a planning application for social housing at a controversial site on Nelson Street in Belfast.
The site is owned by Big Picture Developments.
It is planning to build a mixture of private and social housing on the site.
It is permissible to make a planning application on someone else's property so long as the owner is informed.
The executive said it made the application because a previous social housing permission, granted before Big Picture bought the site, has expired.
The executive said it believes "it is important to have an extant permission for social housing on the site."
The application is for 50 two-bed apartments, four four-bed townhouses and ten three-bed townhouses.
The Planning Service has recommended that Big Picture's 238 apartment scheme - 20% of which would be social housing - should be allowed to proceed.
However, when the scheme was due to be discussed by Belfast City Council earlier this year the application was withdrawn from the agenda by a senior planner.
The Housing Executive opposes the Big Picture scheme saying it is inconsistent with the social housing area plan.
In March 2010, the Housing Executive asked police to investigate its involvement with the Nelson Street site.
Letter
For years, the executive had said the land was designated for social housing.
However, the executive subsequently appeared to change its mind, with one official writing to planners telling them that it was "withdrawing the request for social housing at the scheme".
It is believed this letter formed part of the focus of the police investigation.
After it was discovered, senior staff at the Housing Executive ensured the letter was withdrawn and its original position was reinstated.
During the police investigation a director of Big Picture, Barry Gilligan, went voluntarily to the police to be interviewed.
He denies any wrongdoing.