Carrickfergus Armed forces day parade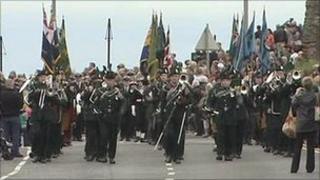 Carrickfergus has been hosting one of a series of events across the UK organised to mark Armed Forces Day.
Returning Royal Irish Regiment soldiers, cadets and veterans have taken part in a parade in the town.
Local RAF pilots staged a tornado flypast.
Among the participants was Lance Corporal Kylie Watson, who is back in Northern Ireland for the first time since receiving the military cross for bravery.
The Ballymena soldier was recognised for treating an injured colleague under heavy fire in Afghanistan.
"It's nice to be home actually, to see my family," she said.
"And it's good to see everyone and say thanks, because I got a lot of letters saying congratulations."