Breen/Buchanan murder inquiry hears of IRA mole unease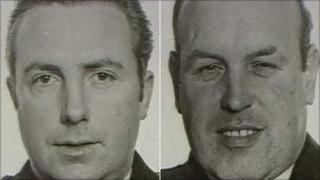 There was unease about a suspected IRA mole based in an Irish police station when two RUC officers were shot by the group, an inquiry has heard.
The Smithwick Tribunal was set up to investigate the murders of Superintendent Bob Buchanan and Chief Superintendent Harry Breen.
They were ambushed after a meeting at Dundalk Garda Station in 1989.
The inquiry heard on Friday that there was unease at the station over newspaper reports of a mole.
Retired Detective Superintendent Tom Connolly, who carried out an internal probe into the killings, gave evidence at the tribunal.
"I'd say I was aware of it possibly before I went to Dundalk.
"Certainly when I arrived in Dundalk I was told by some sources there was an unease about a certain individual," said Mr Connolly, adding it had also been known outside the station.
The witness was not asked to identify this individual. Instead Justin Dillon, senior counsel for the tribunal, replied: "We will leave that for another day."
Open mind
It is understood Mr Connolly - who worked across Kildare and Dublin before being promoted to border superintendent in Dundalk in October 1998 - will return as a witness in the autumn.
The tribunal heard nothing had been highlighted by Mr Connolly's investigation.
He said he believed the IRA would not have needed inside assistance to ambush the high-ranking RUC officers and that the pair could have been under surveillance for "months, possibly years".
"I always have an open mind about everything, a concern about who could have been involved," he added.
Mr Breen and Mr Buchanan were the two highest-ranking RUC officers killed in the Troubles. The tribunal, established in 2005, has been investigating allegations that Garda officers in the Republic or a civilian in the force colluded with the IRA in the murders.
Detective Garda Tom Molloy later told the tribunal he did not believe there was a mole in Dundalk when he read the newspaper reports after the men were killed.
He thought the IRA ambush and escape routes would have taken weeks to plan and had not been "a spur of the moment thing".
Det Gda Molloy also told the tribunal his colleague Det Sgt Owen Corrigan - who the tribunal is investigating as one of three possible IRA informers - was regularly harassed by subversives who took his photograph and posted it on poles around the town.
Retired Det Sgt Corrigan has refuted any involvement with the terror group.
"I would say that nobody that I know arrested more IRA people than Owen Corrigan did, and nobody took more abuse than he did," said Det Gda Molloy.
When asked if be believed Det Gda Corrigan ever colluded with the IRA, Det Gda Molloy replied: "Definitely not."
Garda Matthew O'Reilly said Det Sgt Corrigan was looked up to when he arrived in Dundalk and that subversives saw members of the Special Branch, which Corrigan headed, as British collaborators.
He told the tribunal the senior garda was "tainted as a traitor" when he handed republican Robert Russell to the RUC during his extradition in August 1988.
The tribunal will sit again on 13 July after its team interviews potential witnesses during an investigative phase next week.