William Wong jailed for having pipe bomb in Armagh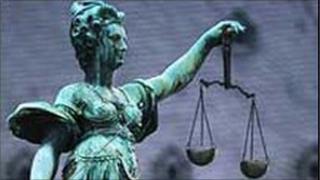 An Armagh man has been jailed for a minimum of five years for having a pipe bomb with intent to endanger life.
William Wong, 22, from Dalton Close, was arrested on 11 March last year after police chasing him saw him throw a plastic bag over a wall.
The bag was later found to contain a viable eight-inch pipe bomb.
Wong was given an indeterminate sentence - it will be up to parole commissioners whether or not to release him at the end of the five years.
Wong and another man not before the court had ran from a police patrol after officers tried to stop them at Niall's Crescent in Armagh.
He was then seen throwing away the bag.
When he was searched, police found that he was wearing one rubber glove on his right hand, had a further pair in his pocket and was also carrying a cigarette lighter (the pipe bomb had a fuse on the end of it).
Although he refused to answer police questions, Wong later pleaded guilty to possessing the explosive device with intent to endanger life.
Judge Tom Burgess told Belfast Crown Court: "It's an unfortunate fact that there are in our midst organisations who have not ceased to carry out murderous attacks on police and security forces."