Tributes paid to Rathlin Islander Johnny Curry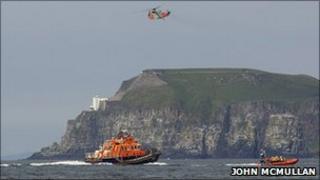 Tributes have been paid to Johnny Curry, the Rathlin Island man who was found dead in the waters off the coast of the island on Saturday.
Mr Curry, who was in his sixties, was travelling from Rathlin to Ballycastle when he fell overboard.
An air and sea rescue was launched after the crew of a ferry travelling between Ballycastle and Rathlin Island spotted the empty rib-type boat.
Redbay lifeboat discovered Mr Curry's body a mile off the island's Rue Point.
It thought something snagged in the propeller of his boat.
Paddy McLaughlin from the Red Bay Lifeboat was part of the search and knew Mr Curry well.
Popular
He said: "It is an awful shock. Johnny was a great character and a real gentleman. He was always very helpful if people were near the island.
"He spent most of his life at sea. He knew the waters extremely well around the west coast of Scotland and around Ireland.
"He was funny man with great humour - a real Rathlin Island champion."
Seamus Blaney, who is a councillor in Ballycastle, said Mr Curry was a popular figure.
"Johnny was well known, not only in Ballycastle. I would say anybody in the boating fraternity would know him very well," Mr Blaney said.
"He ran fishing trips and that sort of thing. Anything to do with the sea, Johnny was about it."
Noel McCurdy, chairman of the Rathlin Development and Community Association, said: "Everyone's devastated - it's just so hard to take this in.
Investigation
"All boatmen certainly have a high regard for the sea, and so would Johnny.
"Johnny would go out to get people back on the island when conditions weren't good, and yet sadly he lost his life on one of the calmest days of the year."
Ian Paisley Jr is the DUP MP for North Antrim.
He said: The circumstances of this very sad occurrence are a warning to us all of the dangers many face in this locality on what is a normal way of travel.
"There should be a quick investigation into what occurred and anything that can be learnt from such an investigation shared with the public."