Illegal immigrant holding centre opened in Larne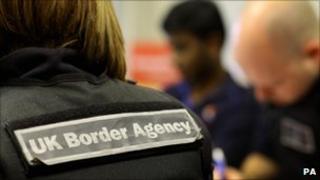 A new holding centre to help with the removal of illegal immigrants has opened in Larne, County Antrim.
The facility is the first of its kind in Northern Ireland.
It will also hold foreign nationals caught illegally working in Northern Ireland and those who have overstayed their visas.
Larne House will accommodate a maximum of 21 illegal immigrants for a period of up to seven days.
David Wood, strategic director of criminality and detention at the UK Border Agency, formally opened the centre on Tuesday.
He said a "tough system of enforcement and removal is one of the cornerstones of an effective immigration system".
"This new facility in Northern Ireland is a welcome addition to the UK Border Agency's estate and will help us remove more individuals who have no right to be here," he said.
"We are reforming the system to make it more effective to ensure those with no right to be here are removed."
The first detainees will be accepted into Larne House on 11 July.
The opening of the centre means that the UK Border Agency can now hold up to 3,400 people in detention at any one time.