A weekend of mud, music and moshing at Oxegen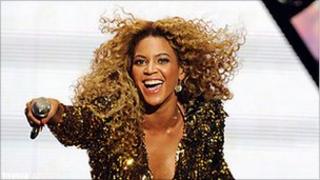 As most of us prepare to spend the weekend cowering under our umbrellas, thousands of people from Northern Ireland will brave the elements in the name of music.
Busloads of fans are gearing up to make the annual pilgrimage to the Oxegen festival at Punchestown, County Kildare, which starts later.
Every year, the concert's organisers pull out all the stops to bring the world's best artists to these shores. And this year is no different.
The Black Eyed Peas, Weezer and Irish band the Script will kick of the proceedings on Friday.
Northern Ireland acts Two Door Cinema Club and Cashier No.9 are amongst those leading Saturday's billing along with American rockers, the Foo Fighters.
But notably the biggest coup for this year's festival is being saved for the final furlong.
Fresh from her acclaimed Glastonbury set, Beyonce is due to storm the main stage on Sunday.
Music critics have commented that the 2011 line-up has more of a pop vibe than previous years.
Oxegen was once viewed as an indie rockers paradise, but performances by Jay-Z and Eminem in recent years have broken that mould.
The event's 90,000 tickets have not sold out despite the laudable line-up. But at 200 euros (£179) a piece many fans have complained they just cannot afford the price tag.
Those who did splash out can expect delays of at least an hour getting into the venue.
And with rain showers forecast until at least Saturday, here's hoping they all remember their wellies.