Cloyne report: A detailed guide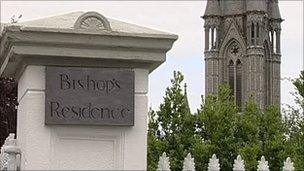 The Roman Catholic Diocese of Cloyne is in the republic of Ireland, and covers most of mid, east and north Cork. Its centre is the picturesque costal town of Cobh, which used to be known as Queenstown, from where millions emigrated around the time of the Irish Famine.
What is the Cloyne report?
The report (officially known as the Commission of Investigation, Dublin Archdiocese, Catholic Diocese of Cloyne) has examined how allegations of sexual abuse of children in the diocese were dealt with by the Church and state.
Led by Judge Yvonne Murphy, the same commission produced a report into the Dublin diocese in November 2009.
That report examined five complaints against two priests and found that the child protection practices in the diocese under Bishop John Magee were "inadequate and in some respects dangerous".
This report will be comprehensive, including findings on 19 priests who were accused of abuse over a 13 year period from January 1996 to February 2009. Running to around 400 pages and 26 chapters, it covers a time when the Catholic Church in Ireland had introduced its own child protection guidelines.
The report was completed and given to the previous government last December, but publication has been delayed until now because of legal concerns due to active criminal proceedings concerning one priest mentioned in the report.
The report, therefore, will include at least one blacked-out chapter.
What is different about this report?
This is the fourth report into abuse in the Catholic Church in Ireland, after the diocese of Ferns report in 2005, the Ryan report detailing abuse in residential institutions in May 2009 and the Dublin Archdiocese report in November 2009.
This report is different because of the more recent timeframe; there were clear guidelines in place when these allegations of abuse were being made.
We can expect the report to detail how the diocese failed vulnerable children, how the sharing of information with the Irish police and the health authorities was limited and done reluctantly, and that there was no appreciation of the seriousness of the abuse allegations.
It will also be difficult reading for the former Bishop Magee who stood down in March 2009 after serving as bishop of Cloyne since 1987.
Related Internet Links
The BBC is not responsible for the content of external sites.