Family ask judge not to jail digger death driver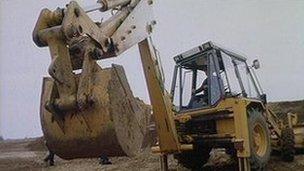 The family of a man killed when a digger bucket fell on top of him have asked a judge not to send the driver responsible for the accident to prison.
Francis Callaghan from Fanad died at a County Donegal building site in January 2007.
He had been helping to lift manhole covers when the bucket of a digger came loose and fell on top of him.
His co-worker and friend Dermot Boyce, 47, pleaded guilty to failing to attach a safety pin to the digger.
However, the victim's family said they did not want to see him go to jail as his admission had helped them to come to terms with their loved one's death.
The court was told that Mr Boyce, from Knockbrack in Kerrykeel, had only minutes earlier wished Mr Callaghan a Happy New Year and they chatted for a while before the accident at the site at Forfar, Milford.
He had planned to fill his machine with diesel at another part of the site, but was called away by site foreman Owen Curran to lift the manhole covers.
All the manhole covers but one were lifted using an improvised lifting chain.
Seconds later the bucket of the digger came loose and fell on top of the victim.
Health and dafety officer Greg Murphy told Letterkenny Circuit Court that if the safety pin had have been put in there was no way the digger bucket would had fallen off.
Barrister Damien Crawford said his client was racked with guilt since the accident, was depressed and was now suffering panic attacks and flashbacks about the accident.
Judge John O'Hagan said he did not propose to send him to jail.
"His life is in tatters. He has been punished very severely for what has happened," said the judge.
He sentenced Mr Boyce to three months in prison but substituted it with 150 hours community service.