Mother deliberately gave disabled child salt overdose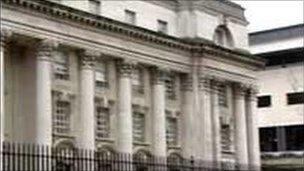 A mother deliberately gave her severely disabled child an overdose of salt, a High Court judge has ruled.
Mr Justice Weir held that the woman alone was responsible for administering the overdose which caused significant, non-accidental harm to the little girl.
He delivered his verdict on who the perpetrator was as part of proceedings brought by the Northern Health Trust.
The infant had ingested up to two teaspoons of salt, possibly from a contaminated tin of food supplement.
Expert medial opinion was that it was most likely delivered through a gastric tube to bypass the child's taste mechanism and deliver it straight into her stomach.
The child, identified only as A to protect her anonymity, was just under two years old when the overdose occurred in January 2010.
'Laboratory incompetence'
The judge also criticised the Northern Ireland Forensic Science Laboratory and police over delays in the investigation into any possible poisoning.
He said the suspect tin languished for more than six months due to laboratory incompetence in putting it in the wrong place when it was to be tested.
A parallel failure of police in following up the whereabouts of the sample was also identified.
Mr Justice Weir said: "There appear to have been no procedures and certainly no adequate procedures in place either on the part of the Forensic Science Laboratory or of the police to follow up the progress of this analysis and to obtain a report.
"As a result the progress of this important investigation and of these proceedings was delayed for no good reason during a period of approximately six months."
The child, who suffered a severe brain injury due to nearly drowning months after she was born, is fed using a gastric tube.
She is also spoon fed soft foods sometimes mixed with proprietary supplements, including one known as Duocal.
Her care arrangements were shared following the separation of her parents.
A's mother claimed to have no knowledge of how she received excess salt and denied any responsibility.
She suggested the child's father could have gained entrance to her house while she was out and tampered with either the boiled water used in feeds or the Duocal.
Alternatively, he might have seized a later opportunity during a few moments she left him alone to go to the toilet, the woman claimed.
A's father denied that he was ever on his own in the house during the day of the incident.
Mr Justice Weir accepted the father or mother were the only sources of the salt administration, but rejected any possibility that they acted together.
He also dismissed the mother's claim that she went to the toilet and left the father alone.